Continental Commercial Group
---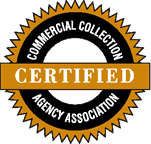 A direct path to debt recovery without missing a step
We are one of only approximately 100 commercial agencies in the country to have earned the Certificate of Compliance of the Commercial Law League of America. This recognizes the highest standards of excellence in the collection industry. Few companies achieve this level of integrity and service. In addition this certificate assures clients that we comply with all federal, state and local debt collection practices and laws while keeping abreast of legislation as it shapes and governs our industry.
Field Calls
We use collectors who personally go to the debtors' place of business or residence to collect and/or ascertain asset information to determine the viability of litigation. We become your "eyes and ears" on the outside to determine if the address provided is merely a temporary office or mail drop and, of course, to determine if the debtor is actively operating, shipping and receiving, etc. In addition, we interview the debtor, attempt to obtain a check, make notations of the assets and appearance at the place of business. A photograph is taken and then the appropriate report is given to you, along with our recommendations.
Our Legal Staff Is Here For You
To give you even more professional clout, our agency maintains a corporate legal department that exclusively handles our commercial litigation claims. Our attorney is available most any time to discuss commercial matters, and our supporting legal department staff works hand-in-hand with our lawyer to expedite maximum collection recovery with minimal cost. We collect nationwide and internationally through an extensive network of attorneys that we have relationships with for over 30 years.
Experian/Trans Union
Upon request, we will report commercial debtors provided the claim has no dispute and the debtor displayed an acknowledgement of indebtedness. Potential debtors to be reported are reviewed on an individual basis to protect both our agency and our clients from claims and potential litigation.
Remittance
We have one of the shortest turn-around times in the industry of 19-23 days.
Building Industry Credit Association


From bakeries to waste management, we represent a vast cross-section of industries nationwide. This is one of the reasons why so many trade associations choose our service. We are particularly proud of being the agency of choice for BICA, the Building Industry Credit Association. As experts in this industry, we are able to provide several options of legal recovery for every aspect of the building industry, including lien, stop notice enforcement and foreclosure suits.
The Real Boss
If you hire us, you're our boss, and we do everything possible to treat you accordingly. We will customize our reporting to meet your requirements, we will remit to you quickly and we will not continue to pressure you for increased flow of business. Our aggressive posture is saved for your debtors and we will arrange a mutually acceptable agenda for follow-up marketing calls.
Take a look at what Collections & Credit Risk had to say about us...